Professor Lock's Great Picnic Adventure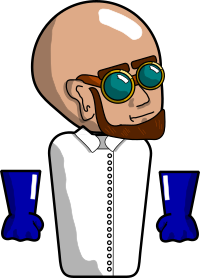 Mad Scientist and known Crazy Man Professor Weyland Von Lock has just had a fantastically hard day of sciencing stuff. He has decided "You know what?! It's time for a picnic" because that's totally stuff a Mad Scientist would do! In his mind blur of knowledgey stuff he grabs the wrong picnic basket (he grabs the one labeled science) and then sets out to his picnic. Upon finding a fantabulous spot he plops down and pulls out a sandwich. As he goes in to take a bite he realizes "that's not delicious cracked black pepper turkey! It's a black hole!" The world around him is consumed leaving nothing but his thoughts in the void. Is his mind strong enough to manifest a new world? Why is the blackhole full of enemies?! Why does killing them seem to bring back his focus? Are they his inner demons? Why am I asking all these questions?
Gameplay:
All text world and enemies. After beating a certain amount of enemies you regain a piece of the Professors fragmented view of reality. You will stay in one room fighting waves of enemies after finding a [weapon of player choice]. You can swing the word chosen to fight the waves of enemies.
Created for the Butterscotch Shenanigans Shenanijam 2018

Using the theme: Void Sandwich
Additional Achievements : Maverick - for flying solo.
Download
Click download now to get access to the following files:
Post-Jam ProfessorLockBuild06302018.zip
19 MB
Jam Build - ProfessorLockBuild061018.zip
19 MB
Comments
Log in with itch.io to leave a comment.
This is hilarious. And metaphorical! Recommended weapon: A REALLY REALLY BIG WEAPON
Haha, My weapon of choice was The D, wish I could click though the intro after I had seen in once. Fun concept!
Yeah I had planned to implement a skip function but the text dialog box kept causing problems with one of the other systems. I ended up figuring out what I did wrong right at the end but didn't have time to implement. Thank you for trying it out!
Love the professor's insight at the end! really funny game!